Someone a few entries back mentioned that they like simply prepared recipes. So I'm gonna toss this unique highly seasoned little number your way.

The name: Pork Adobo
Country of origin: Philippines

A little background, the Philippines are an island chain located in the Pacific, they were a Spanish colony from the 16th century up until 1898 when America took them in the Spanish-American war (Commodore George Dewey's flagship Olympia rests at Penn's Landing in Philly my home town.) The Japanese occupied them in WWII. And that's enough history; my point being that Philippino food has a combination of different cultures within it. And this recipe for Pork Adobo is a fine example it exhibits heavy Spanish influence. Adobo being a Spanish word for meat that is stewed in a marinade. Well that's the rough translation anyway. So for this recipe you will need:


1lb of Pork or chicken (I used pork chops)
3-6 cloves of garlic
10 whole peppercorns or a tbsp of ground black pepper
2 bay leaves
1 sweet onion sliced in thin rings (Vidalia, Mayan sweet, or one of those red ones)
1/2 cup of Spanish Sherry vinegar (I used half sherry vinegar and half white vinegar considering Sherry Vinegar is hard to come by in these parts. You could use balsamic but mix with white or just use all white if that's all you got)
1/2 cup of soy sauce (use a low sodium one, my new favorite brand is Kimlan, it's soy-a-rific and less salty then stink-o-man)
1/2 cup of water
1 teaspoon of sugar (optional, I left it out)
1-tablespoon olive oil

In a large pot heavy bottom pot/pan combine garlic cloves, peppercorns, bay leaves, vinegar, soy sauce, water and onions and bring to a boil. Add meat and turn down to a simmer and cook uncovered for about 40 minutes to 1 hour until meat is tender. Add more water if it gets too dry. At this point you should have a highly seasoned piece of meat. Remove meat. Taste the sauce it should be reduced and slightly thickened, don't expect heavy thicknes. The sweet onions should temper the bite, if it is too acidic for you add sugar and stir.
This final part is optional but it adds another dimension of flavor and is authentic to the recipe. And besides a little carmelization never hurt anyone. In a separate pan heat olive oil. Pat meat with a paper towel or you'll have a mess when it hits the olive oil. When hot, take meat (this is actually essential if you use chicken with the skin on) and brown in olive oil. Serve over jasmine rice w/onions and a little sauce.

It'll get ya right in the back of your throat.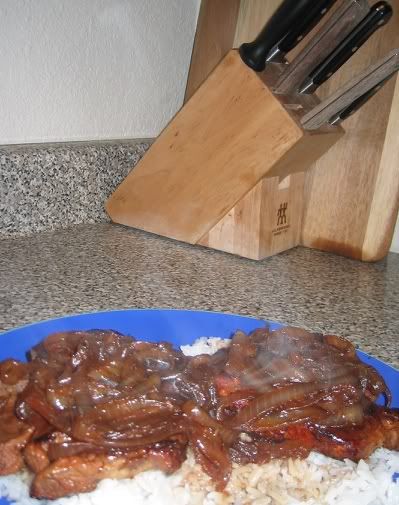 In all it's steamy browny glory.